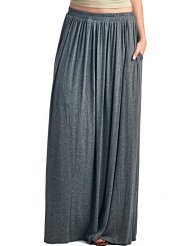 HIJAB STYLE BASICS : MAXI SKIRT #4
Our final maxi skirt for the month has great reviews and features something that we all love – pockets! This essential maxi skirt comes in a variety of colors that can be dressed up or down. I'll be getting a few for my own wardrobe inshaAllah.
Links:
[1] Maxi Skirt with Pockets by LeggingsQueen, $24.99.