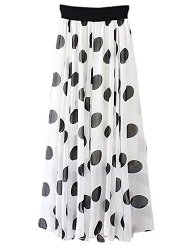 HIJAB STYLE BASICS : MAXI SKIRT #2
Next up in our maxi skirt series is a pretty, vintage-inspired polka dot maxi skirt. This one can be paired with other black and white pieces for a classic look. Or you can add a pop of color with your hijab and accessories for a more modern look.
Links:
[1] Polka Dot Maxi Skirt by UrbanCoco, $20.99.