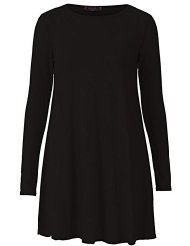 HIJAB STYLE FIND : SWING DRESS TOP
This week, we're featuring an item that is definitely a wardrobe staple for me – and luckily, it's getting easier and easier to find. I'm talking about the swing dress that can be worn as a tee-shirt-style top with all of your pants, jeans, and even skirts. The dress featured here comes in a variety of colors and they're all very affordable. Check them out below.
Links:
[1] Swing Dress Top by FashionMark, $9.99.