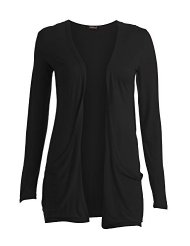 HIJAB STYLE UNDER $20 : LIGHTWEIGHT CARDIGAN
Up next in our Hijab Style Under $20 series is a piece that can add instant modesty to any outfit and carry your wardrobe through any season – the very necessary lightweight cardigan. This particular one comes in a slew of gorgeous colors and prints; and the price starts at just $0.34 – kinda crazy! Get the link below!
Links:
[1] Cardigan by Crazy Girl, $0.34-$19.99.