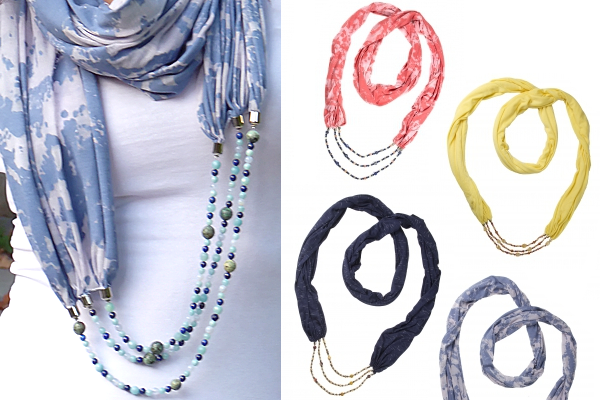 HIJAB STYLE SPOTLIGHT : SCARF NECKLACE
One of the common questions that Muslim women ask me is "What type of necklaces look good with hijab?" If you're struggling to figure out how to accessorize your hijab style, or if you just want a unique look, you'll be happy to know about Lubna Salah and House of Shakti.
Lubna is an amazing jewelry designer out of Beverly Hills, California. She created a gorgeous amethyst bead (tasbeeh) bracelet for me a few months ago, and she has just launched another item that would be great for Muslimahs: The Scarf Necklace.
The Scarf Necklace combines cotton fabric with strands of gemstones to create a circular scarf that takes the guesswork out of accessorizing your hijab. Check out the link below to see more Scarf Necklaces and to see pics of how to wear them… And when you're done, come back here and leave a comment to let us know what you think!
Link:
[1] Scarf Necklace, $89+.