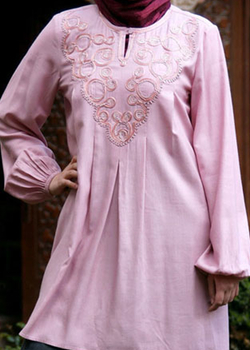 Today's Hijab Style Find is another nod to Global Pink Hijab Day. This pretty pale pink top features intricate embroidery, bishop sleeves (a favorite of mine!) and soft pleating detail in the front.

Hijab Style Tip:
This top is made of rayon and as you can tell in the picture, it's very soft and flowy. To balance out the softness of it, I'd wear this top with a stiff pair of dark wide-leg jeans or black pants. In fashion, they always say that when you wear something flowy (like this top), you should wear something fitted/tight with it. Since fitted and tight are usually don'ts when it comes to hijab fashion, the stiff jeans that I mentioned will give us the same balancing effect – without exposing our goodies to the world!

Link: [1] Shakura Top, $39.95.