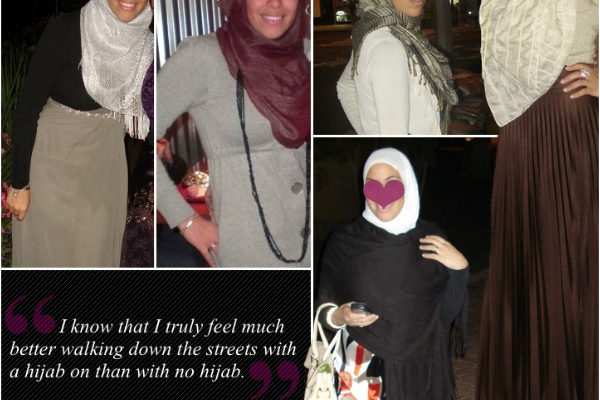 HAUTE HIJABI : NORA
We Love Hijab's main goal is to show how Muslim women can dress modestly and stylishly at the same time. Many of you have been asking for examples of Muslimah's who are doing just that. And in response to those requests, we proudly present our new weekly feature called Haute Hijabi!
An Haute Hijabi is a stylish Muslim woman who — of course — wears hijab. Each week, we'll feature a different sister and our first model is Nora, a 19 year-old college student from Weston, Massachusetts.
Read on to find out more about Nora's Haute Hijabi style!
WE LOVE HIJAB: Why do you love hijab?
NORA: Because it protects me in many ways and reminds me everyday as to why it is I am here. Also because it allows people to look past the superficial ideals of beauty and look at the person within.
WE LOVE HIJAB: What is your favorite place to find modest clothing on or offline?
NORA: H&M. Although it is not an Islamic store, I still believe one of their designers must be Muslim or Hijaby inspired because they always have something for everyone! Their clothes are modest, stylish, and not expensive. You can always depend on them for every-day basics that are still Hijab appropriate. Zara is great too, but does not have many stores in the US and their prices in the US are higher than overseas. For those hijaby's in Europe, Zara is great!
WE LOVE HIJAB: How would you describe your sense of style?
NORA: My style has varied a lot over the past couple of years. I went from dressing ghetto, to the 'abercrombie and fitch' look, to hippie look, and now i like to blend a bit of chic with classy all at once- but of course always bearing in mind the Islamic dress code, to the best of my ability (iA). My style reflects my personality and mindset at the time- I shifted from one thing to another but now I definitely settled down, and with one look as well!
WE LOVE HIJAB: What key pieces do you think every Muslimah needs in her wardrobe?
NORA: A long skirt, definitely, and a long (covering the buttox) long-sleeved shirt (one very important thing to note: quarter-sleeves do not qualify as long-sleeves and there are arm sleeves sold in many Muslim owned clothing stores than can make up for this flaw in clothes). Plain hijabs are also great to have to even out an outfit that has too much going on while a colorful (not too flowery, bright, or sparkly) hijab can add taste to a plain ensemble. For me, it's all about having the perfect handbag (but that's a whole other story) ;-)
WE LOVE HIJAB: Which "celebrity" really needs a Modesty Makeover?
NORA: Britney Spears- maybe a modesty makeover will help make over other aspects of her life as well!
WE LOVE HIJAB: Who is the most stylish woman you know and why?
NORA: To be completely honest, there are few-to-no stylish women out there in the media today who represent a genuine Islamic aspect of style. If I am going to answer this question based on the proper way to dress, then I can only think of few friends who actually represent this. However, if I answer based on who is able to put together the right colors, patterns and style I would have to say Victoria Beckham, Rachel Bilson, Ashley Olsen (only recently though), Demi Moore, Cameron Diaz and others of that kind.
WE LOVE HIJAB: Do you have any advice for Muslim women who are considering wearing hijab?
NORA: First of all, do not stress about it too much or over-think it. Although wearing hijab is a big deal (many many females take it off and put it back on again or sometimes keep it off permanently), it is not something that requires a lot of work. If someone is at the level necessary to wear hijab then they are most likely already modest in their dressing and are already following the basic requirements of a Muslim woman (like praying, fasting, ect). This means, wearing the hijab only brings two 'obstacles': 1) knowing how to wear a hijab properly and 2) understanding the new role you are playing in society as an official walking representation of da3wa to Muslims everywhere. Even though this may come off as a biased opinion to many because I wear hijab, I know that I truly feel much better walking down the streets with a hijab on than with no hijab. Yes, I may stand out in some ways, but if you play it off properly, you should only stand off in a positive way. To be honest, I very rarely (I can probably count the number of times on one hand) receive negative comments from people regarding my hijab (keep in mind I have been wearing it for almost five and a half years now). I have always been given compliments from both Muslims and non-Muslims. As long as you wear the hijab with confidence and in a classy way, you will most-likely not draw attention to yourself (although there will always be the ignorant people who give you a bad vibe regardless of what you do). Always remind yourself that Allah (swt) knows best and He would not have asked us to follow through with this action if He knew it would not be beneficial to us in one way or another. Also, remember that we are on this earth and alive today (alhamdoulillah) because Allah swt has blessed us with life and all He has asked in return is that we follow his words (the Koran) and He will always be there to guide us inshAllah. If you look at the big picture, we are not giving up anything, rather gaining from this experience and inshAllah, as time passes more and more people will see this.
STEAL NORA'S STYLE: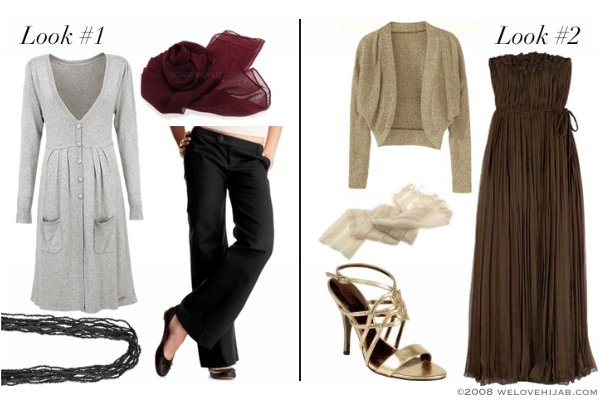 Look #1:
Longline Pocket Cardigan, £50.00
Chiffon Hijab, £3.99
Tab-Front Wide Leg Pants, $49.50


Long Black Bead Necklace, $15.00
Look #2:
Shimmering Cropped Shrug, $29.00
Strapless Pleated Gown, $2708 (Wear without the belt, please.)
Carlos Santana Necktie Sandal, $26.99-$89.00
Sheer Silk Textured Hijab, £15.95
Want to be next week's Haute Hijabi? Contact me!